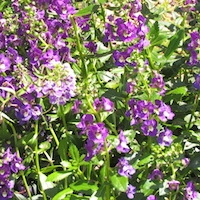 Summer Snapdragon: Angelonia
Sometimes referred to as Summer Snapdragon, the flowers and leaves of Angelonia are similar to those of a dainty snapdragon. Angelonia has delicate salvia-like flower spires reaching a foot or two high. These flower spires are studded with those delicate snapdragon-like flowers in beautiful colorations of purple, white, or pink. It's the perfect plant for adding bright color to hot, sunny spaces. This tough plant blooms all summer long and some of the newer varieties are sweetly scented. In our hot, dry Boulder landscape this summer bloomer enjoys full sun but will also do well in very light shade. Angelonia works in both containers and gardens where it receives even moisture and good fertile soil. If your angelonia starts to look a bit leggy, you can give it an occasional pruning, but for the most part it is a low maintenance, disease free plant. And the best part about growing Angelonia is the fact that our ever growing deer population in Boulder don't seem to like to eat it.
The winsome Angelonia plant combines well with Madagascar Periwinkle (upright vinca), Euphorbia 'Diamond Frost', Dusty Miller, Limon, and Geraniums.