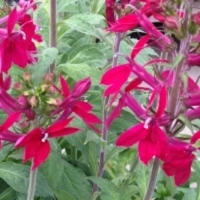 Cardinal Flower: Lobelia Cardinalis
Lobelia Cardinalis (common name Cardinal Flowers) produce tall, graceful spikes of bright red flowers between midsummer and early autumn. Cardinal Flowers bring the garden to life by attracting several species of butterflies as well as hummingbirds! A great addition to woodland settings.
Lobelia Cardinalis does best in filtered sunlight or shady areas in Boulder. It is native to the Eastern United States where it is commonly found growing in moist places along streambanks and in swampy areas. It is a short lived perennial, and is often treated like an annual here. It is well worth replanting each spring for its gorgeous red flowers that are often pollinated by our ruby throated hummingbirds.