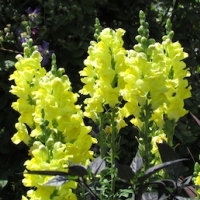 Snapdragon: Antirrhinum
What a welcome sight after a dreary winter. Snapdragons begin to arrive in March at the same time as our pansies, ranunculus, ornamental kale, dianthus, alyssum, and vinca. They love cool temperatures and bright to partial light making them a favorite for early spring and fall planting. Once the dog days of summer are upon us they may go slightly dormant. No worries…this is a good time to prune to revitalize them for late summer and fall flowers. Their love of cool temps makes them ideal for higher altitudes where they will thrive even with a light frost.
Snapdragons come in a variety of heights; we carry a wide range of the dwarf, magic carpet types 6-8", medium 15-30", and tall 30-48". Two standouts of last year had variegated leaves with either clear lemon yellow or pink flowers. Children love to squeeze the blossoms to make the 'mouth' of the 'dragon' open and close. Be sure to look for them all season long, as we continue to stock them right through to October, giving a boost to gardens and patio containers.
Snapdragons are actually a tender perennial that will withstand a mild Boulder winter and come back from their own rootstock in the spring. Never knowing what the winter will be like, we choose to treat them like annuals, planting them each spring, but we are always happy when they come back on their own or reseed.