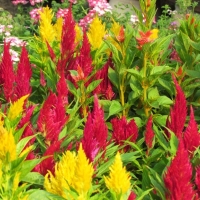 Cockscomb or wool flower: Celosia
The sunny annual Celosia tolerates hot, dry conditions well. It is very low maintenance requiring almost no deadheading. About the only thing it doesn't like is being overwatered. Commonly known as woolflower or cockscomb, the blooms are a distinctive flame shape or - you guessed it – a cockscomb with the curly folds similar to the surface of a rooster's comb. This phenomenon is known as fasciation or cresting. It is a relatively rare condition of abnormal growth when the apical meristem or growing tip is concentrated around a single point and produces flattened or ribbon-like crested or elaborately contorted tissue. Some varieties of Celosia are raised especially for their dependably crested or fasciated flower heads and these are the varieties that we refer to as cockscomb. They come in vibrant colors of golden yellow, hot pink, hot red, and darker red. Some plants have bright red leaves for a unique look. Check out the cultivar 'Amazon' with its soft pink blooms resembling a taller version of the popular Joey plant (Ptilotus).
Celosia is suited to gardens and French Garden containers. They work well with Zinnias, Marguerites, purple Scaevola, Salvias, and Lantana.