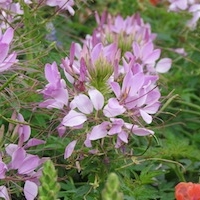 Cleome Spider Flower: Cleome
Cleome is a great annual for a sunny spot. Also known as Spider Flower, this structural, tall plant has thorns along the length of its stem making it resistant to both rabbits and deer. It tolerates drier soil yet benefits from even moisture while it is blooming. The whimsical shape of the flower makes it a standout in contemporary as well as cottage gardens. It is low maintenance, prefers full sun to light shade, and is easily naturalized, attracting hummingbirds, butterflies, and birds.
The blooms of white, pinks, soft purple, and bi-colors combine very well with tall Verbena 'Bonariensis', dark Ornamental Millet, blue or red Salvias, Cosmos, Larkspur, and Artemesia.