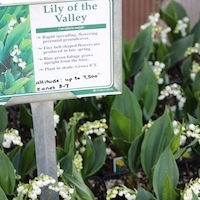 Lily of the Valley: Convallaria majalis
Lilies of the Valley are a great early April and May bloomer in partial to fully shaded areas in moist fertilie soil. They are wonderful small plants for naturalizing under trees. These perennials are rhizomatous plants that may need to be divided if they have been in the same place for a few years and don't seem to bloom as freely as they once did.
Lilies of the Valley have clusters of dainty small, white, bell-shaped flowers that elegantly hang from a strong, reedy stalk. A favorite for its sweet fragrance they are often used in spring bridal bouquets. With their beautiful fragrance and small stature, Lilies of the Valley are best appreciated when planted along a walkway or in raised containers where they are regularly passed by and admired.
All parts of the plant are poisonous and care should be taken to keep children from eating the flowers or the red berries that are produced after flowering. If ingested they can cause abdominal pain, vomiting and reduced heart rate. Deer and rabbits may realize this as they leave Lily of the Valley alone.