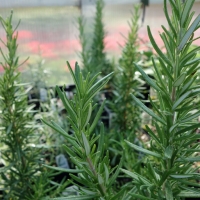 Rosemary: Rosemarinus officinalis
Rosmarinus officinalis, commonly known as rosemary, is a woody, fragrant, perennial herb. However, in our Boulder gardens it's not a hardy perennial so it's best to grow it in a decorative pot that can be placed outside in the summer and brought indoors in the winter. Rosemary is a beautiful evergreen plant with needle-like leaves and a heavenly fragrance. Rosemary is a member of the mint family Lamiaceae or Labiatae native to the Mediterranean region. It comes in many varieties both trailing an upright. Our favorite upright is "Tuscan Blue" with it's beautiful bright blue flowers. We also like "Albus" with it's white flowers and "Arp" with it's light green and almost lemon scented leaves. "Blue Boy" is a great dwarf variety for herb gardens grown in containers with other culinary herbs.
The outstanding fragrant and flavorful foliage makes rosemary an all-time favorite for cooking. Enjoy the intoxicating aroma by planting rosemary along walkways or in large containers on patios and decks. A must-have for the grilling enthusiast! Dip rosemary sprigs in oil or barbeque sauce and use like a basting brush. Then throw the sprigs into the fire for the last few minutes of grilling time.
Rosemary oil applied topically to the skin is said to improve circulation. The oil has also been used to treat muscle pain and arthritis, but no scientific studies have proven it's effectiveness.
Rosemary's fragrance and small blue, pink, white or purple flowers make it a wonderful addition to flower arrangements and wreaths. And since rosemary is for remembrance it is a perfect addition for bridal bouquets or boutonierres.
Rosemary plants can be trained to grow in different shapes. It is commonly made into cone shaped topiaries at Christmas time.