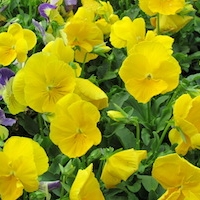 Pansy: Viola x wittrockiana
Pansies have been a garden favorite since the first varieties were developed from the wild Viola species back in the 1800's in England. The charming flat-faced flowers bloom in array of colors including blue, red, pink, yellow, orange, white, purple, black, and bicolor. A popular choice for planting in cooler temperatures in garden beds or container plantings . Planted earlier in the spring than most other flowering annual plants, pansies enjoy being the among the first blooms to announce 'Spring is coming".
Pansies and violas make me smile. I love walking into the greenhouse in early March and there they are…multiple flats creating a happy crazy quilt of color…and I smile. Indeed it is a sturdy little plant that can support such a big bloom and still stand up to cold, rain, wind, and snow. Who can resist the sight of a light dusting of snow atop pansies inter-planted amongst tulips? They add zest to French Garden pots and window boxes. The edible blossoms can dress up cakes and salads. Everybody seems to have their favorites.
There are so many ways to incorporate pansies into your garden that the best recommendation I can make is to please come into our greenhouses and enjoy the endless, creative combinations that our very talented French Gardeners design in varied pots and planters. Keep in mind that we also make pansies available again in late August through October to extend the beauty in your yard. We usually plant a big bed of a single color of viola or pansy, usually yellow or light blue, in the front bed at Sturtz before the first frost in the fall. They are in a fairly protected spot right up against the greenhouse and they seem to bloom all winter long. This year they are bright yellow and have made it through countless snowstorms and freezing temperatures.