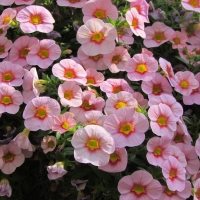 Calibrachoa or Million Belles: Calibrachoa Hybrid
This hard-to-pronounce (kal-ih-bruh-KO-uh) cousin of the petunia has quickly become one of the backbones of hanging baskets, French Garden containers, and garden edging. Unlike petunias they bounce back better after a rainstorm, are not nearly as sticky, and do not require deadheading. Yes, it's true! Also known as Million Bells or Callies, these fast growing trailers benefit from a good trim midway through the season. They prefer to be moist but not soggy, with full sun to very light shade. They withstand a few degrees of frost making them a good choice for those living at higher elevations.
Breeders continue to astound us with new colors every year. There are doubles, singles, variegated, and solids. They are easy, no fuss plants - great for beginner and expert alike.