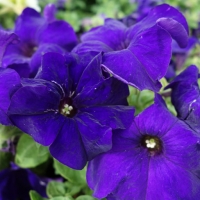 Petunias: Petunia x hybrida
Their wide color selection, easy culture, and ability to knit together a garden, hanging basket, window box, or French Garden container have earned petunias their well deserved popularity. They thrive in full sun and evenly moist soil, with regular fertilization. Petunias hold up well in Colorado's dry and windy conditions. Their fast growing habit makes them a boon for filling in unexpected holes in a garden or container. Likewise, be warned that they may overtake a much slower growing plant if planted right next to it. Deadhead spent blossoms by pinching below the calyx rather than simply removing the petals. We are happy to demonstrate this upon your next visit to our garden center. Many cultivars also benefit from being pruned a third to halfway back as soon as they begin to look gangly. I like to prune and fertilize mine a few days before going on vacation. They become stockier and are flush with new buds by the time I return home.
Petunias can also extend the beauty of the season well into fall. For example, a tired looking French Garden (patio) container of mixed plants can be easily reinvigorated by replacing a couple of them with fresh, new petunias. It's amazing how it visually perks up the overall look of the remaining plants.
Connie and Roxy do a wonderful job of stocking the eye-catching and the unique, Petchoas, Waves, new hybrids, tried and true favorites, and more. Remember too, petunias are one of the hardiest of the annuals so you can usually plant them early in the season when our Boulder temperatures are still fluctuating madly especially at night. We've had them go through frosts that would kill the tender annuals and they don't seem to mind those occassional slushy spring snowstorms. We usually take a chance and plant them out early in the boxes that go across the bridge to the greenhouse, and have only had one major failure due to an extended period of frost and one of our four foot late April snows.