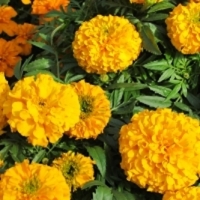 Marigolds: Tagetes species
The saturated golds, yellows and rusts of the marigold are a bright addition to French Garden containers, window boxes, and garden borders. Their structure is fairly upright and rigid making them a good compliment to softer profile plants such as nasturtiums, angelonia, ornamental grasses, and bidens. They thrive in full sun to very light shade with even moisture. Vegetable gardeners use marigolds to both repel and trap certain insects. For instance, the French marigolds repel whiteflies and kill bad nematodes in the soil. Mexican marigolds supposedly repel rabbits. Carol is happy to report that the deer that frequent her yard seem to leave 'Lemon Gem' alone.
Whether starting with seeds or transplants, marigolds are very easy to grow. They are a great introduction plant for children and first time gardener. Remove spent blooms to assure a non-stop burst of sunny bright flowers ranging from orange, yellow, and red, to spectacular bicolor varieties.