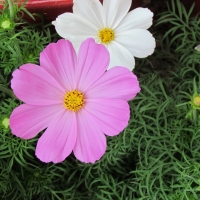 Cosmos: Cosmos bipinnatus
The dry and sunny conditions of Colorado are terrific for cosmos. The airy structure of the plant and flowers lend themselves well to a cottage or wildflower style garden. Butterflies and bees can't resist the simple white, pink, or soft red blossoms. Deer, however, do resist.
The most common cosmos plants in our garden center are 'Sonata' : a medium height, reliable bloomer, good for containers and gardens. Cosmos also grows easily from seed of which we carry a fantastic selection. The varieties named 'Sea shells' and 'Candy Stripe' yield particularly nice cut flowers for a vase. Please keep in mind that although they will tolerate poor soils and are considered xeric, the young plants need regular watering until they are established.
A lovely combination for a garden that gets a lot of sun with a wee bit of afternoon shade includes: (back to front) Cleome, Cosmos 'Sonata', Nicotiana, and Alyssum.