Container Gardens/French Gardens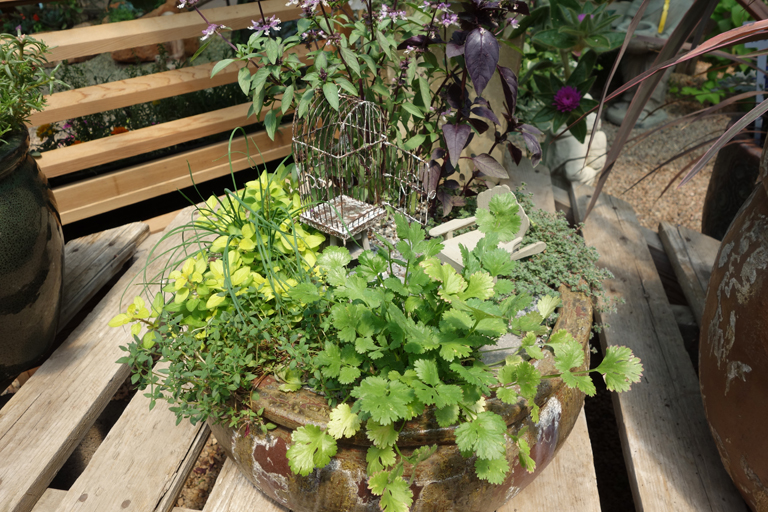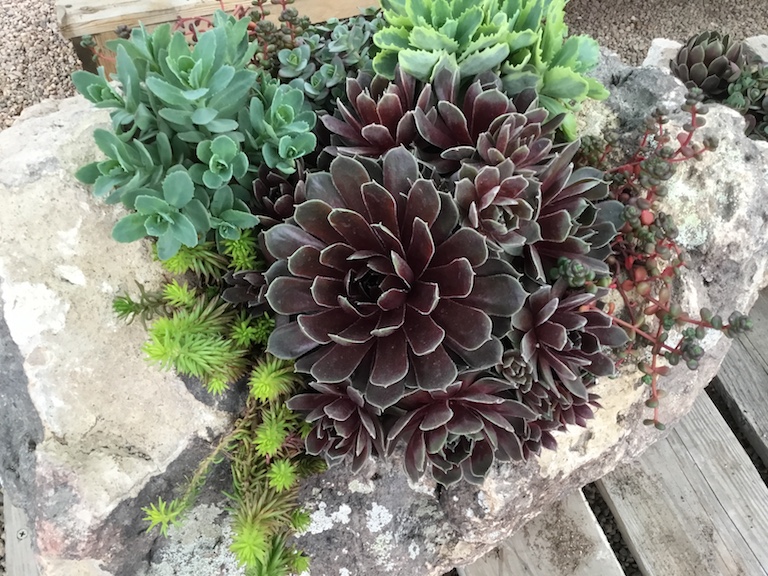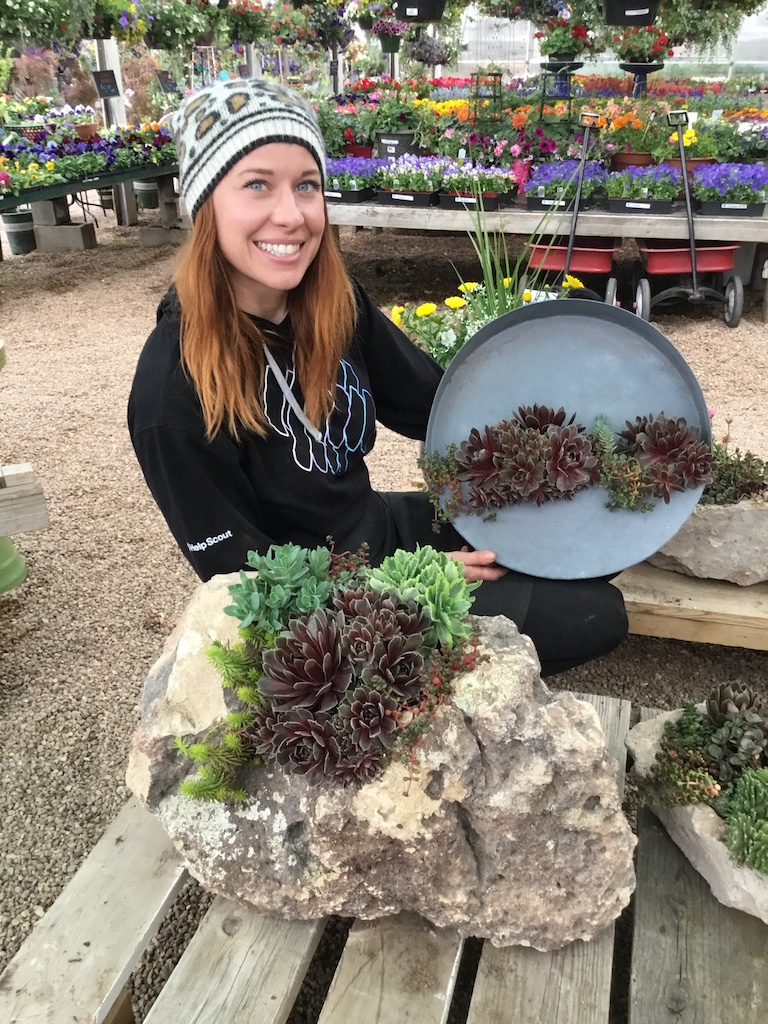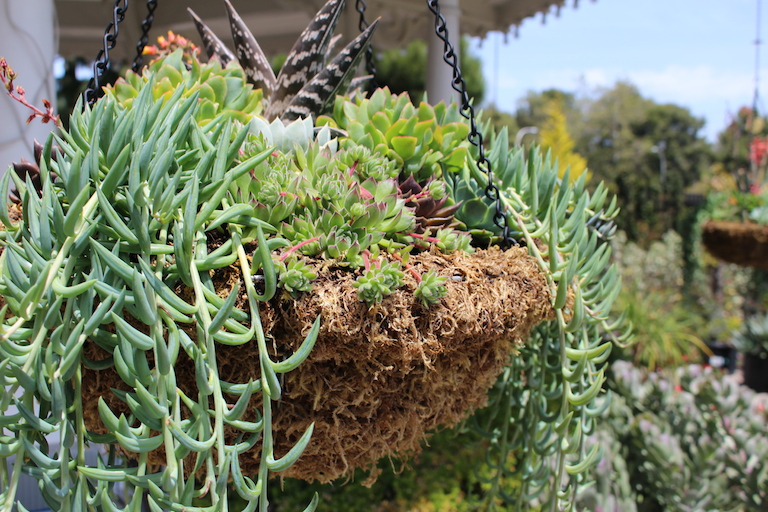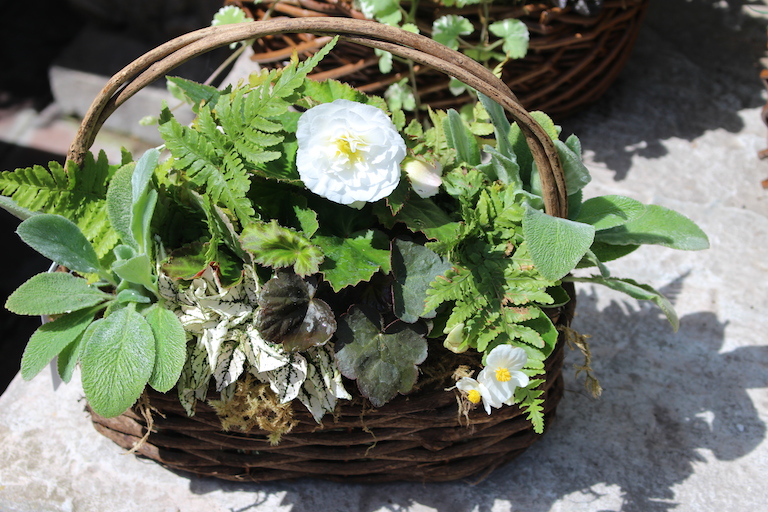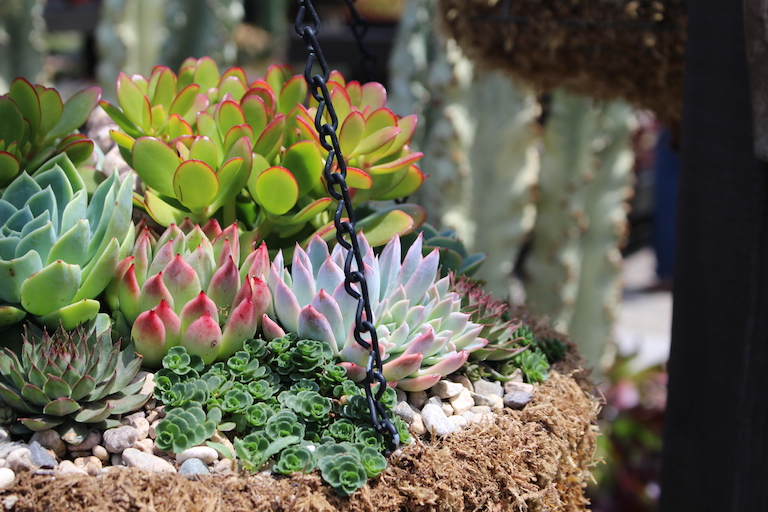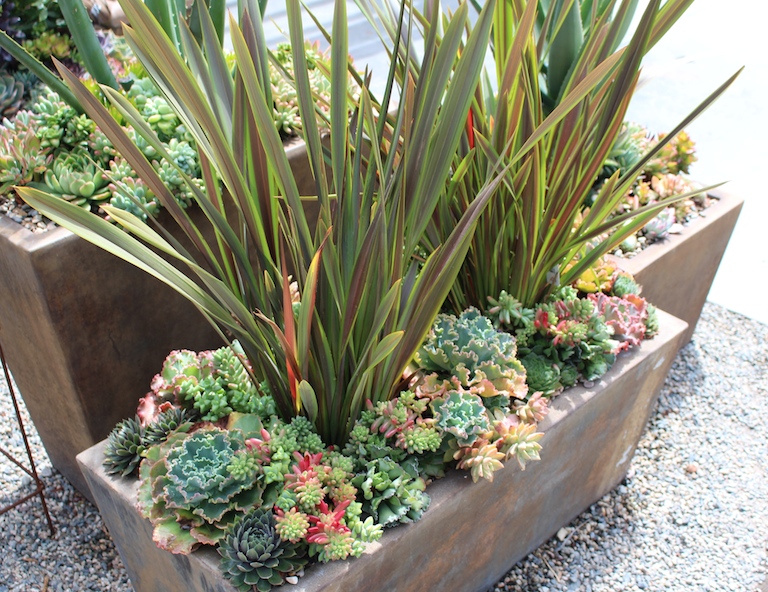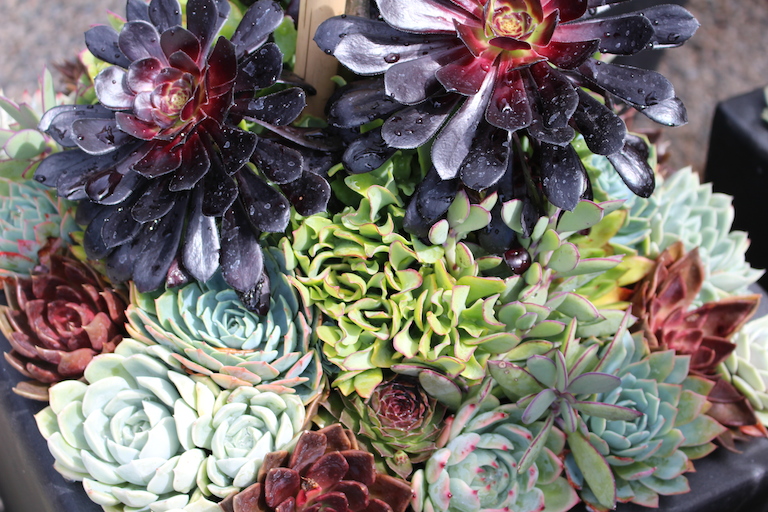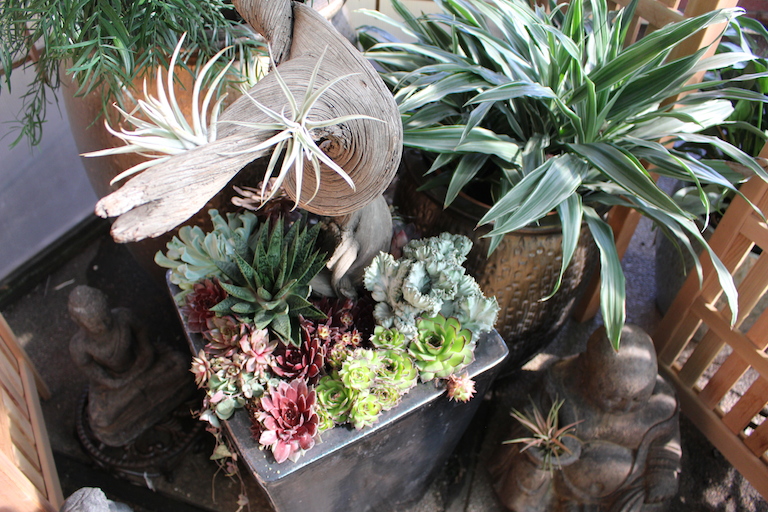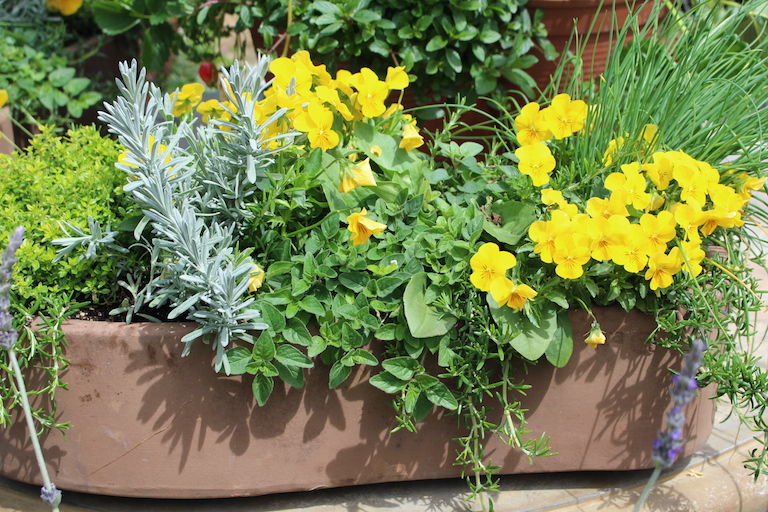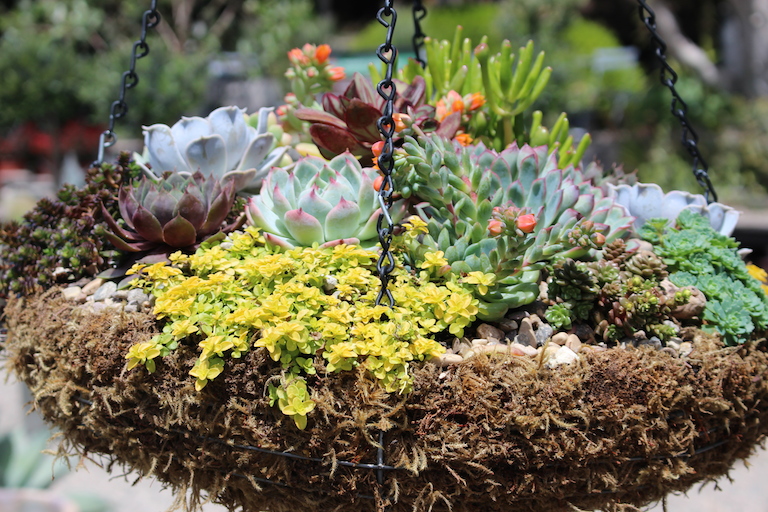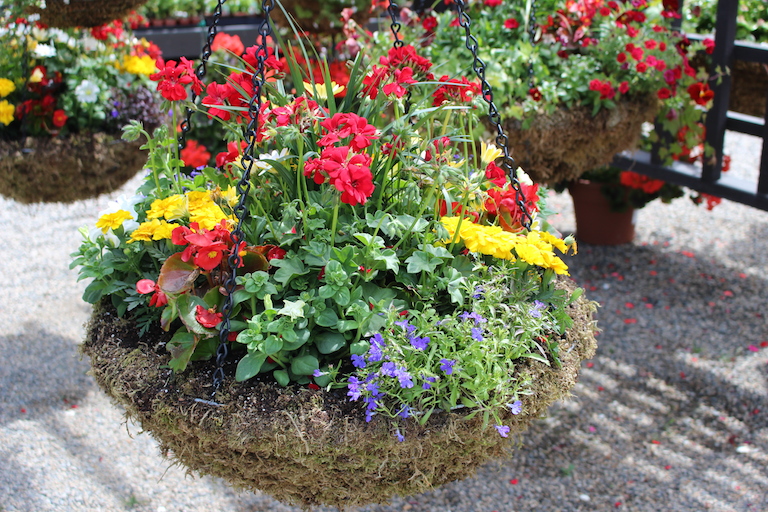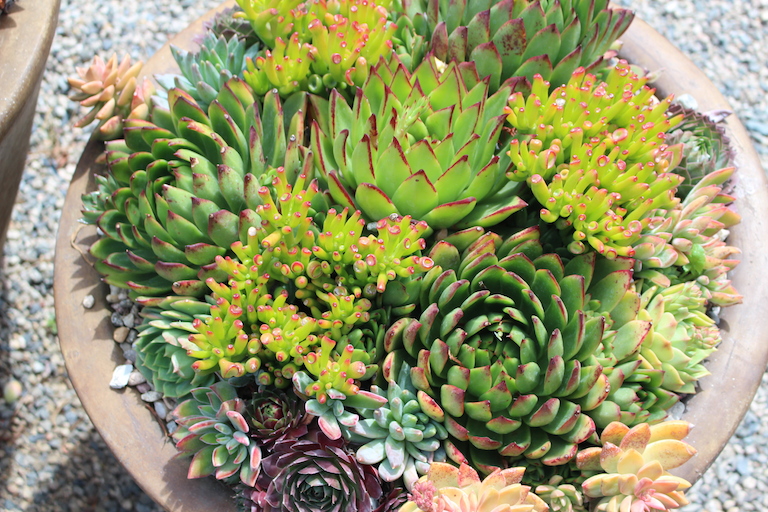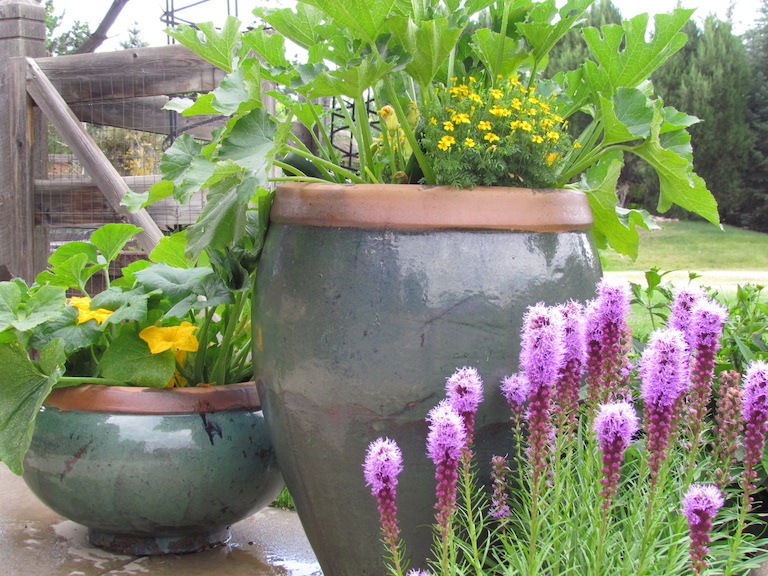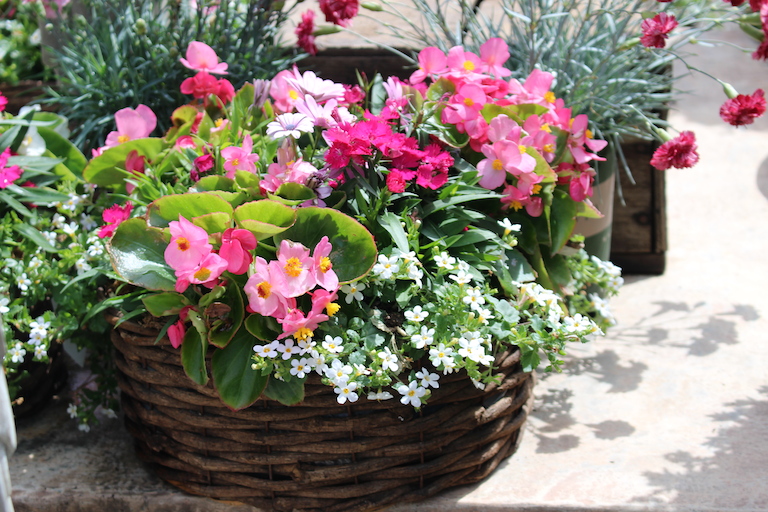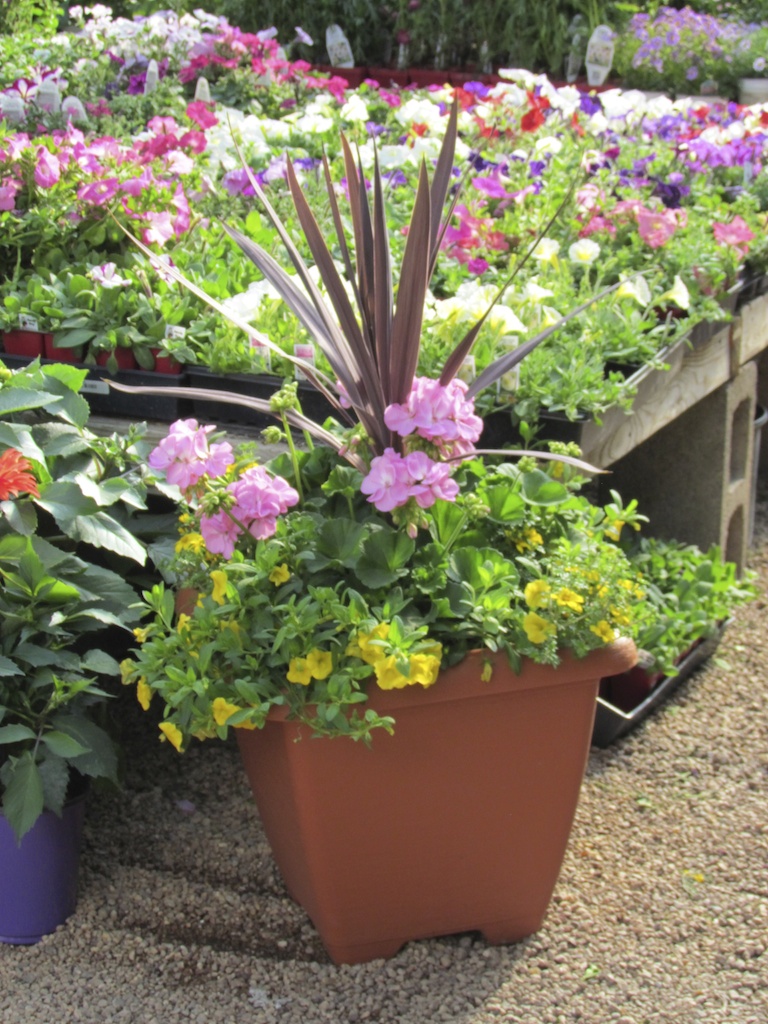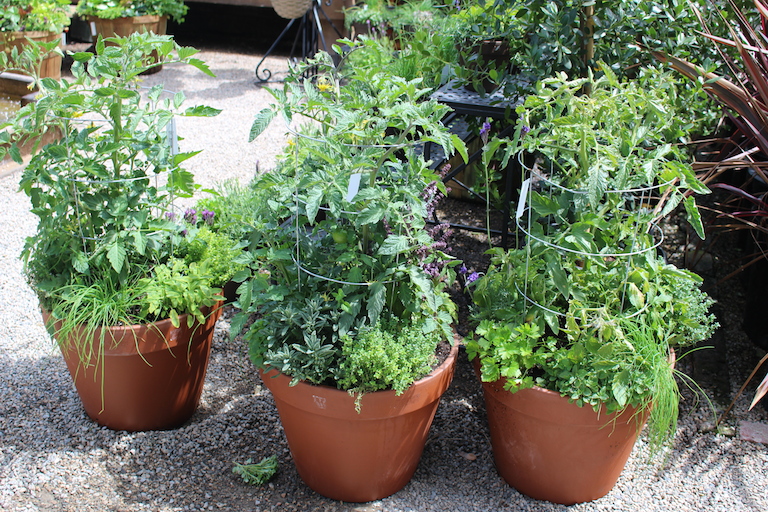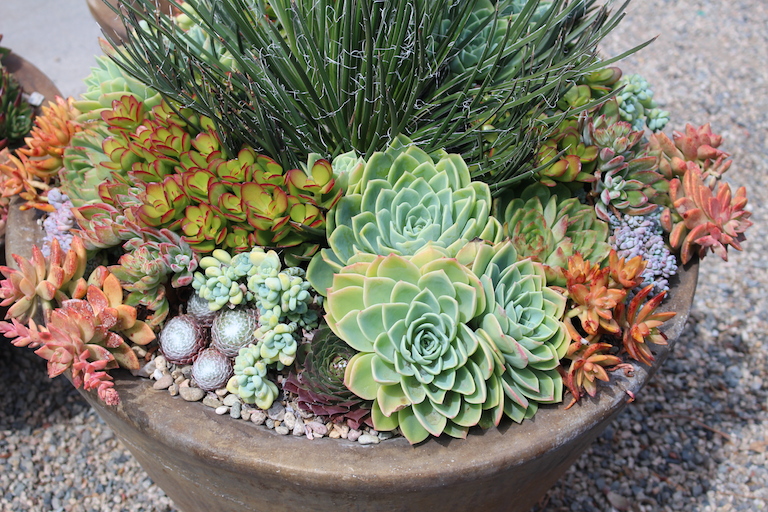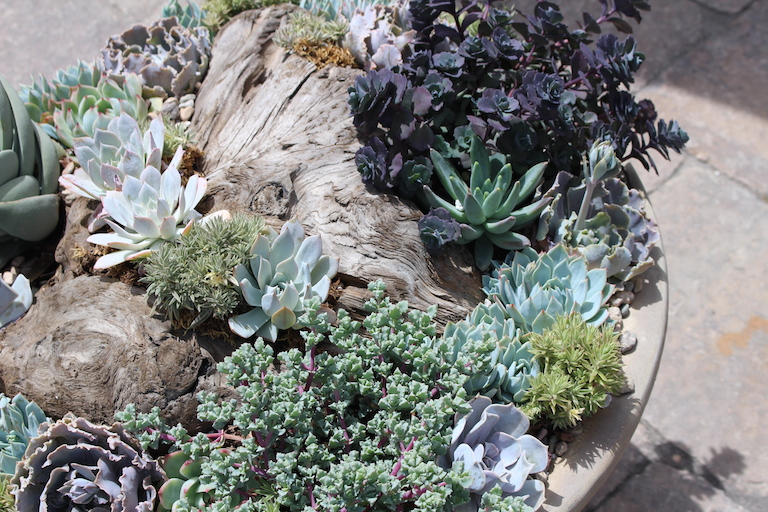 Let our designers create a beautiful French Garden just for you. Just tell us what size you want and whether you'll be putting it in shade or sun. If you have a favorite flower or combination of colors, tell us that too. We'll make a garden that will give you color all summer long using all your favorites. You can bring in your own containers or select one of our pots, planters, hanging baskets or window boxes.
If you don't have a vegetable garden you can still have tomatoes, zucchini, herbs, kale, lettuce or a mixture of flowers and edibles in a container. All of the cherry tomatoes seem to do well in containers in sunny locations. Yellow pear, sweet 100's and sun gold are three of our favorite tomatoes for patio pots. Sweet 100's grow in clusters like bright red grapes. Yellow pears are small, tasty and pear shaped and sun gold are sweet, bright, apricot orange round globes. Make sure you place these tomato containers in a well traveled area where you can always just walk by and pick a quick snack. Herbs, especially basil, are a great addition around the base of a container tomato. Basil and tomatoes go together in the kitchen in a multitude of recipes and they're companion plants growing happily together in pots or the garden. Nasturtiums or pansies can be added around the base of the tomatoes for extra color. Their flowers are edible too and are perfect in salads. We'd be happy to plant up any edible combination of fruits and flowers just for you. Our citrus plants do very well in containers on the patio for the summer. Lemons, limes, grapefruit, kumquats and calamondin are perfect in planters with their sweet smelling flowers and beautiful fruit. All of these French Gardens make wonderful presents and we can deliver them anywhere in Boulder.
Our designers can also give you suggestions for planting container gardens yourself. They'll help you pick the container. Connie has done a wonderful job of ordering pots again this year. We've got every shape, color and size. When planting container gardens for fruits, flowers or vegetables the pots should be fairly large so that the plants have room for their roots and so they won't dry out too quickly in our dry Boulder climate. The pots must have good drain holes. Remember too to elevate your planters so that the drain holes don't get plugged. Pot feet are an attractive way to raise your pots so that they'll drain well. Make sure you use a good porous potting soil that is rich in nutrients. Maxfield's or our own Sturtz and Copeland potting soil are both perfect for container gardens.
If you've got a full to partial sun location you might want to try a succulent garden this year. Try putting a spike or a Sedum spectabile 'Brilliant' or 'Autumn Joy' in the back or center for height. Sedum specatabile is a tough and hardy perennial that typically grows in upright spreading clumps reaching 2 feet in height. In the late summer they are covered with masses of tiny, star-like pinkish rose flowers that bloom in 3 to 6 inch flattened heads atop the grayish green rounded succulent leaves. Flowers age to a coppery red and bloom into the fall attracting butterfies all season long. Sempervivum, hen and chicks, grow in rosettes that look like flower heads and come in several shades of green to red and make an attractive addition in the middle section of the planter. Dense clusters of sedum 'Blue Spruce' with it's silvery blue foliage or sedum 'Tricolor' with each leaf edged in pink and white give added color and texture. Dragon's Blood with deep purpe leaves and pink to purplish blooms will gracefully trail over the edges. Add a few pieces of gnarled wood for extra texture and you'll have a great centerpiece for the summer patio. You can also make a great succulent hanging baskets with taller succulents like some of the spiky aloes for height. Add some echeverias in the middle of the basket, and a few trailing ones like sedum morganianum or donkey's tail cascading over the sides.
We love potting up moss baskets for shade or sun with colorful combinations of annuals. We especially like the moss baskets because you can add plants all around the tops, sides and bottom to give you a complete and full basket. Come in and see what the designers have been creating and ask them to plant up one just for you. Or you can let them help you find the right spagnum moss, a wire basket, some soil and the perfect plants so that you can make up your own special hanging moss basket creations.