Perennials
Shade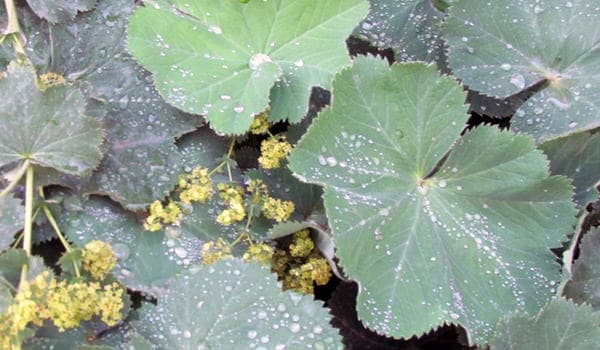 Lady's Mantel
(Alchemilla mollis)
Lady's Mantel is popular for its beautiful foliage texture which can catch and hold water drops, then glisten in the sun. Rounded, velvety soft olive-green leaves are topped with delicate yellow blossoms. Performs well in shade or sun.
Lily of the Valley
(Convallaria majalis)
Lilies of the Valley are a great early April and May bloomer in partial to fully shaded areas in moist fertilie soil. They are wonderful small plants for naturalizing under trees. These perennials are rhizomatous plants that may need to be divided if they have been in the same place for a few years and don't seem to bloom as freely as they once did.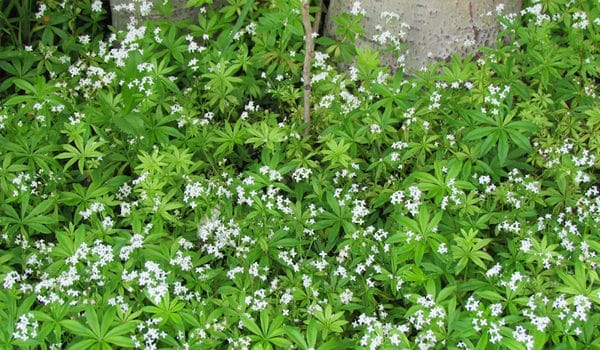 Sweet Woodruff
(Galium odoratum)
A scented foliage presenting a green backdrop of symmetrical sphere-shaped leaves to reveal clusters of fragrant white 4-petal flowers. Blooms appear in late spring and early summer. An easy to grow perennial effective under trees where lawn has difficulty establishing.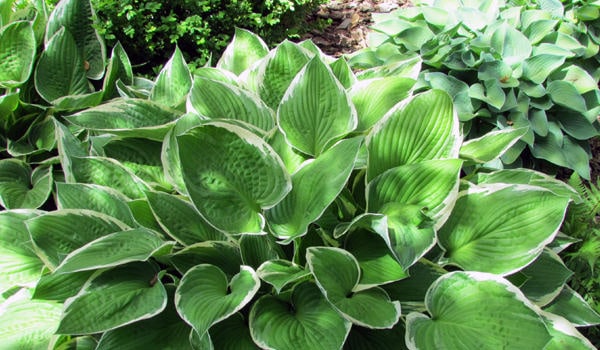 Hosta
(Hosta Hybrid)
The Hosta is the sought-after and staple plant for many gardeners seeking a perennial that flourishes with shade. Nice for mass plantings and woodland gardens.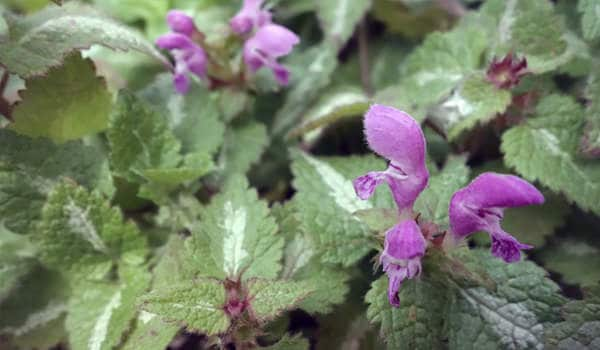 Dead Nettle
( Lamium)
A wonderful option for bringing color into dull shady locations. Lamium forms a vigorous spreading matt of foliage; effective under trees and high decks where lawn has difficulty establishing. Short spikes of colorful, dainty blooms are an added bonus. Flowers in shades of yellow, pink, purple, and white. A real relief when seeking a solution for covering heavily shaded areas!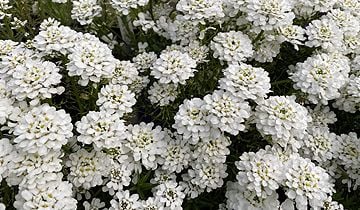 Candytuft
Iberis
Small, pure white, fragrant umbels that bloom from late spring to early summer cover dense mounds of glossy green foliage on this hardy, carefree perennial. Use it for edging, perennial borders, along garden walk, in rock gardens and as a small scale groundcover.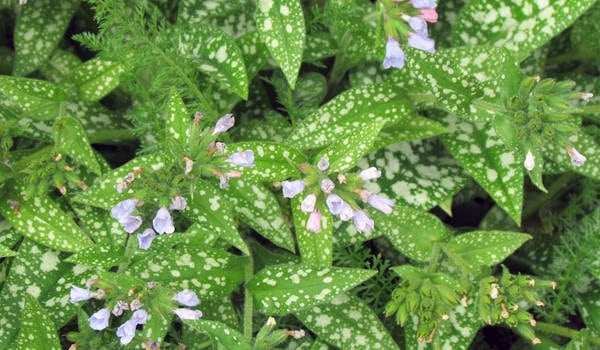 Lungwort
(Pulmonaria)
An ideal perennial for moist, shady gardens. Peppy, spotted green foliage assures eye catching, cross-seasonal interest while clusters of dainty, funnel-shaped pink and blue blooms are an added late winter to early spring bonus. Good choice for shady borders, woodland gardens and ground cover.
Sunshine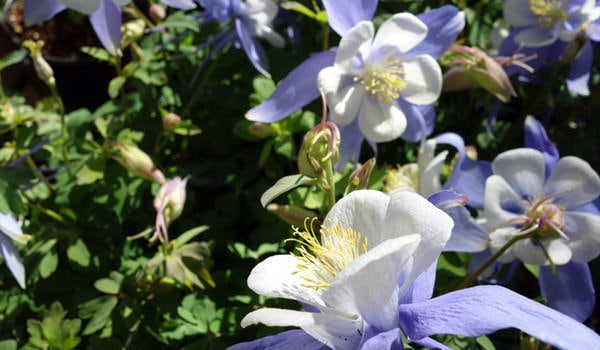 Songbird Blue bird Columbine
(Aquilegia 'Bluebird')
Bluebird Columbine are highly prized for their ability to brighten up a shady spot with color. Their long-lasting blooms produce elegant, nectar-rich flowers that hummingbirds love. These perennial flowers are also deer-proof!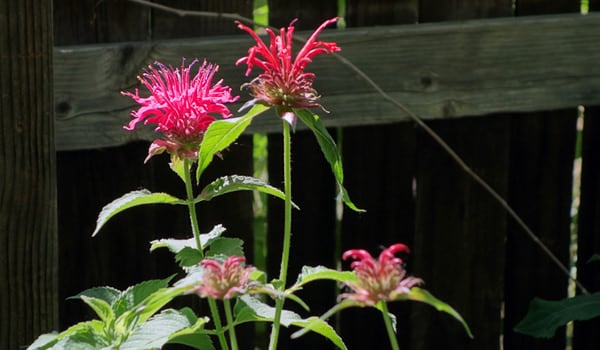 Bee Balm
(Monarda Hybrid)
This all-around performer emits a delightful scent making it an excellent choice for planting near walkways, patios and decks. Produces whorled clusters of tubular florets and deliciously fragrant foliage. Hummingbirds, bees and butterflies flock to its presence. Flowers available in shades of red, pink, white, and purple.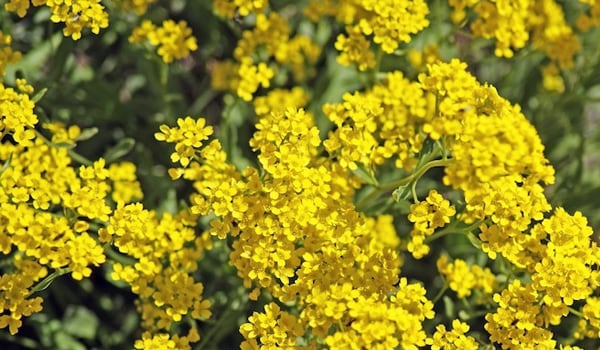 Basket of Gold
(Alyssum saxatile)
Literally a 'Basket of Gold' display with evergreen foliage and bright blooms making it ideal for borders and containers. Its low water use and low maintenance make this plant a multi-season favorite for hot, dry planting sites including rock gardens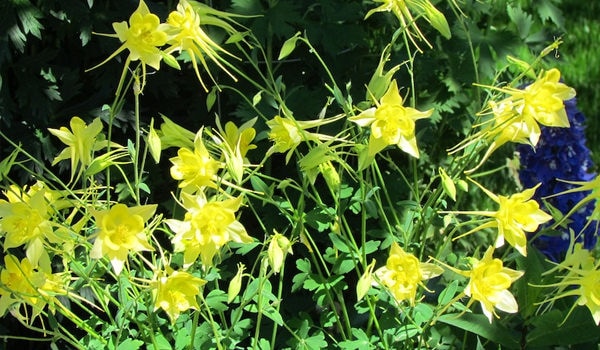 Columbine
(Aquilegia hybrid)
A classic favorite treasured for its beautiful foliage and adorable blooms. The neat and tailored plants are topped with elegant, large flowers. Flowers bloom in shades of blue, pink, red, white, yellow, and bicolor. An ideal plant to attract butterflies to the garden.
Bearded Iris
(Bearded rhizomatous irises)
Irises are perennial plants grown from bulbs producing showy flowers. It takes its name from the Greek word for a rainbow, referring to its wide variety of colors. The long, erect flowering stems are a strong feature varying from simple or branched, solid or hollow, and flattened or have a circular cross-section.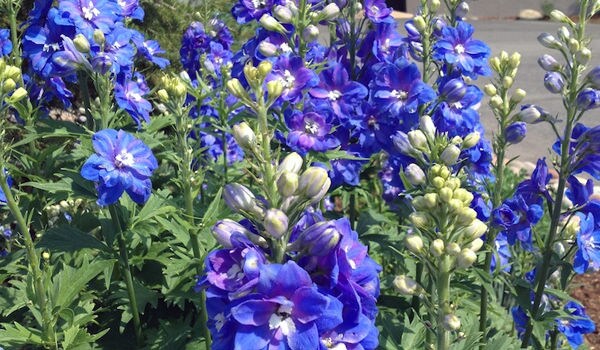 Delphinium
(Delphinium grandiflorum)
An all-time top pick for traditional perennial gardens. Tall spires of densely packed flowers stand firm on strong stems. An eye-catching display in the garden or in a vase. Flowers bloom in shades of blue, purple, lavender, pink, and white.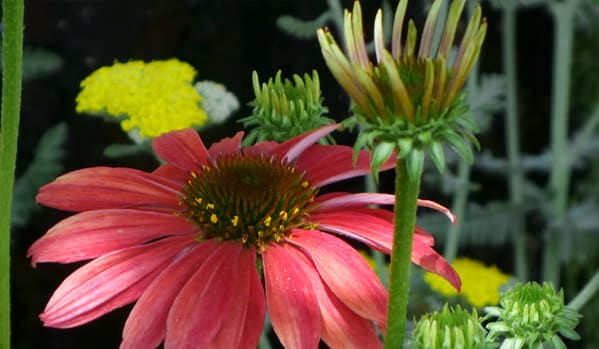 Cone Flower
(Echinacea hybrid)
The first double white Coneflower on the market! Its unique pom-pom flowers with pale lime cones surrounded by white petals presents a humble but elegant flair. Attracts butterflies to the garden.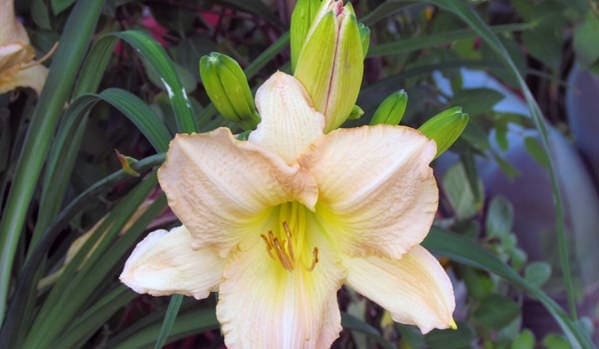 Day Lily
(Hemerocallis Hybrid)
A Daylily produces trumpet-like blooms with each only lasting for one day. Most varieties offer up daily blooms for several weeks and some rebloom throughout the entire summer. Choosing a mix of daylilies with different colors and bloom times is easy and guarantees a colorful garden for months. Vibrant blooms available in shades of red, pink, yellow, orange, purple, and bicolor.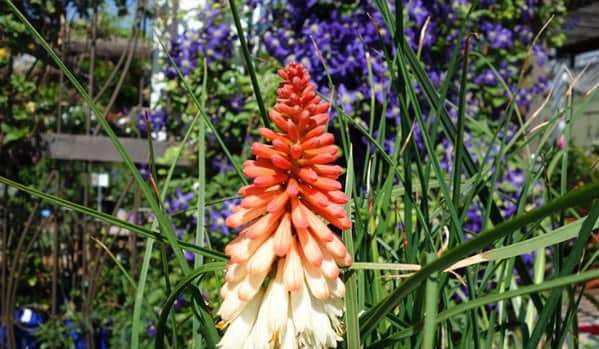 Red Hot Poker
(Kniphofia uvaria)
A hummingbird's delight with flowers that draw attention like no other garden flower! Red Hot Poker yields unique spikes of red and yellow flowers late in the season.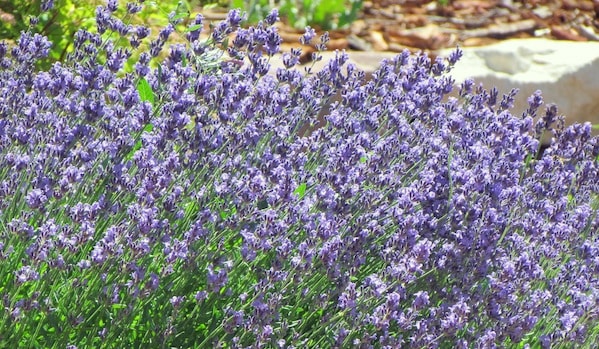 Lavender
(Lavandula)
Lavender is prized for its intoxicating fragrance! This plant is particularly adored when grouped in beds and along walkways where its fragrance can be appreciated. A multi-purpose perennial used for fresh cut bouquets or dried to add to potpourris and herb pillows. Butterflies and bees flock to lavender too!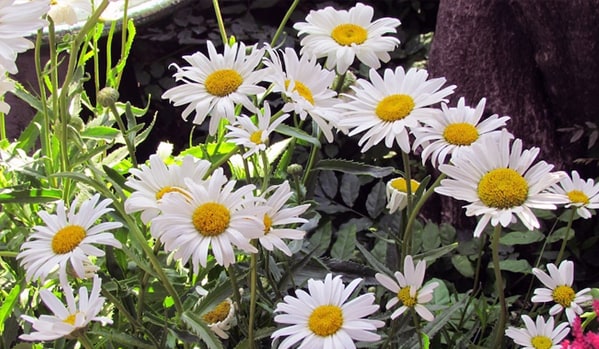 Shasta Daisy
( Leucanthemum x superbum)
A classic and cheerful daisy with white petals and an egg yolk yellow button-style center. Loved for its picture perfect bloom. Its long bloom period makes cut flowers long-lasting in fresh bouquets.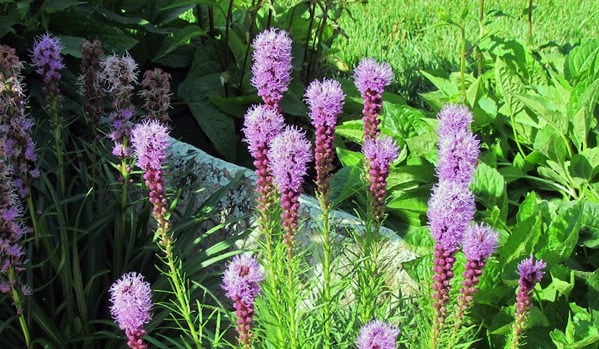 Liatris Gayfeather
(Liars spicata)
Liatris is a genus of ornamental plants in the Asteraceae family, native to North America, Mexico, and the Bahamas. These plants are used as a popular summer flower for bouquets. Common names include: Blazing-star, Gay-feather or Button snakeroot.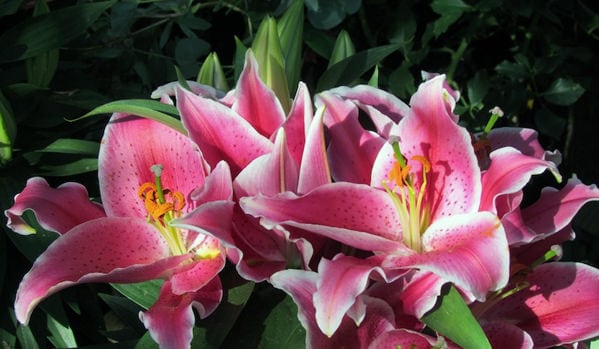 Fragrant Lilies
(Lilium)
Lilies can add an exotic look to any garden. With strong stems ranging in height from 1 1/2 to 4 1/2 feet, these stunning blooms can't be missed. This seasonal flower is easy to plant, easy to grow and rewards you every year with reliable blooms.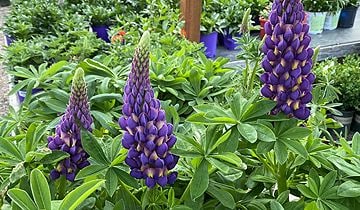 Garden Lupine
(Lupinus polyphyllus)
Colorado is know for it's beautiful Rocky Mountain wildflowers including purple and blue lupine. In Boulder gardens lupines stand tall demanding attention as they display dozens of tiny, pea-like bloom clusters on upright stalks. A display to look forward to year after year. Flowers in shades of blue, pink, yellow, red, white, and bicolor.
Peony
(Paeonia)
An old-fashioned favorite beloved for its full beauty. So many memories are stirred by glimpsing the peony's lush, satiny blooms or smelling its individual, lovely fragrance. It is fitting that the peony has become the traditional flower of Memorial Day. Peonies appreciate Colorado's sunny conditions. In addition, they are cold hardy and do well at high elevations.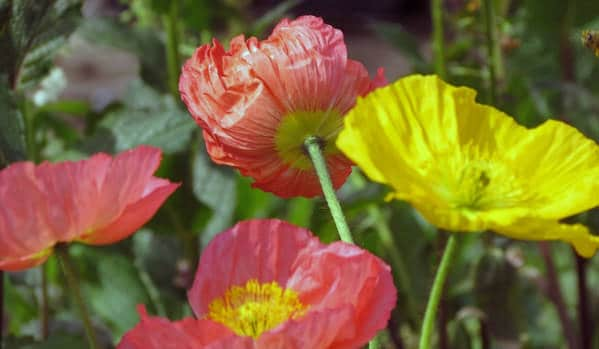 Champagne Bubbles Hypbird Mix Iceland Poppie
(Papaver nudicaule)
Iceland Poppies are short-lived perennials, self-seeders, and can bloom from late spring to mid fall. The tall light green stems are topped with large satiny cup-shaped flowers ranging in pastel shades and bicolors.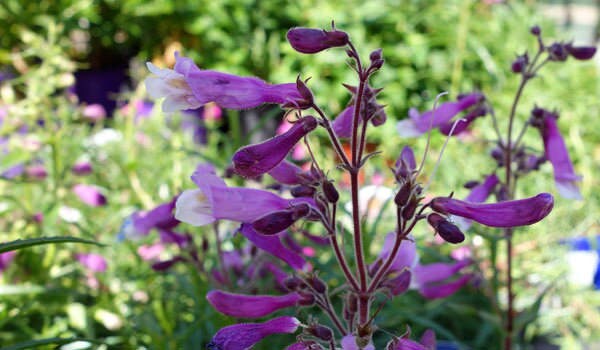 Red Rocks Penstemon
(Penstemon x mexicali)
Glossy, dark green and narrow leaves form an attractive mound loaded from summer through fall with colorful flower spikes. Categorized as one of the "all summer bloomers" of the perennial garden.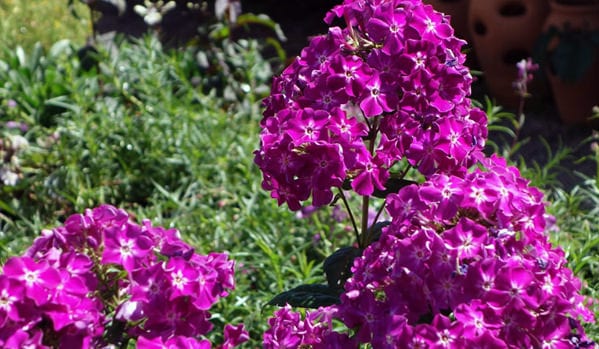 Garden Phlox
(Phlox paniculata)
An upright growing phlox perfect for bringing color and height to mixed perennial plantings. Large, fragrant bloom clusters reaching up to 48" in height flower from summer on into autumn.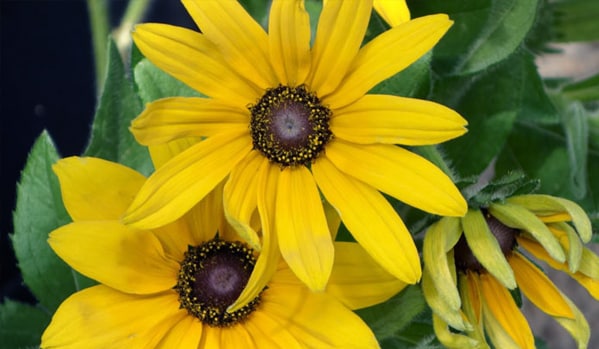 Black-Eyed Susan
(Rudbeckia)
The well-known Black Eyed Susan pops with vibrant and cheerful yellow flowers. Perfect for casual and naturalized settings. Excellent for cut arrangements. A hardy North American native plant suited for thriving in just about any sunny location. The blooms attract bees and butterflies and birds enjoy the seed heads after the flowers fade..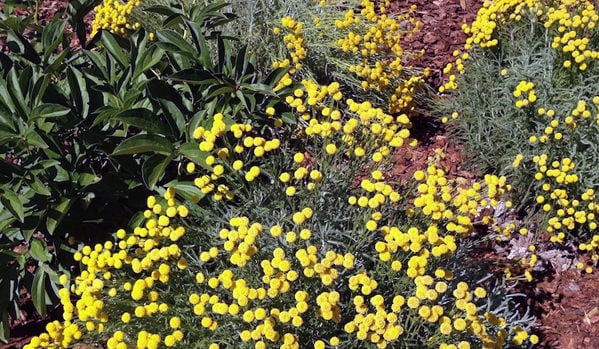 Green Santolina
(Santolina virens)
Green Santolina offers yellow-button flowers in midsummer adding a bright, refreshing touch to any walkway. A low-growing, aromatic shrub that is extremely drought tolerant once established. Enjoy its scent by planting near decks and patios. An excellent choice for low hedges and knot gardens. Deter moths by placing its dried leaves and flowers in drawers and trunks. A multi-purpose shrub!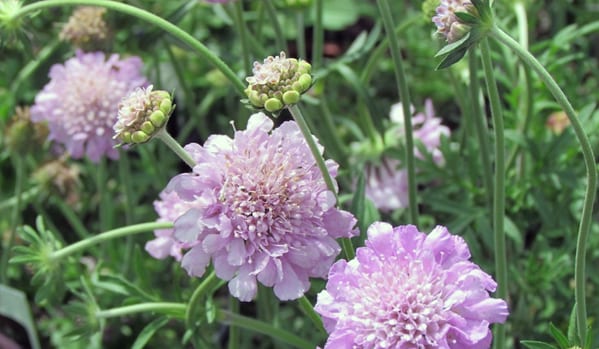 Pincushion Butterfly Blue
(Scabiosa)
A compact perennial with gray-green leaves featuring pretty lavender-blue flowers that look like pincushions surrounded by frilly petals. A nice accent for edging, borders and rock gardens. Pincushion's showy flowers attract butterflies during its long blooming period.