Photo Galleries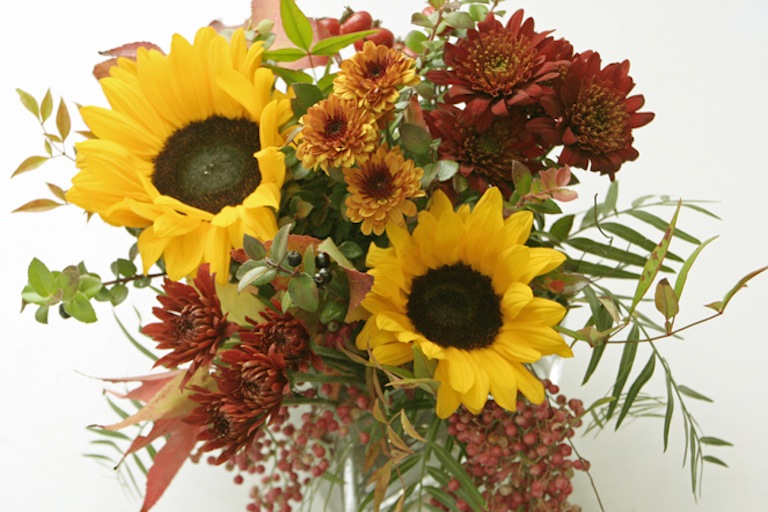 What Our Customers are Saying
Below are some wonderful comments from some of our wonderful clients!
Beautiful Flowers:
The flowers for Jenna's wedding were even more beautiful than I had imagined. The tables were simple and elegant. The bouquet (which almost wasn't) was perfect! I looked for you to tell you on Friday, but you had already left. Thank you for a truly outstanding job. Jane
---
Thank you, thank you!
I wanted to thank you for creating the most beautiful flowers I have ever could have imagined. They were gorgeous and I loved them … and everyone loved them! It was so nice working with you. I apologize I am so late with this, but I did want to let you know how much we appreciated the amazing work you did. Everything was perfect!
Many, many thanks! Elyse & Damien
---
Sympathy Photo
Thank you very much for sending the picture of the arrangement for Nathan Rode. It was very nice and I appreciated all the attention to this order, including a telephone verification of delivery. It looked very nice at the church and photo allows me to send it to those who live out of state. I have shopped at Sturtz and Copeland for many years and even remember when it was located next to BHS!! That's hold old I am! Thanks again for your attention. Linda
---
Gorgeous Flower Arrangements
Just wanted to say a big THANK YOU for the gorgeous flower arrangements – I absolutely loved the big pieces at the amphitheater and got a ton of complements on them. Also, the bridal bouquet was perfect – exactly me! We are enjoying the flowers well into this week… I will send along some photos if you'd like, once I get them from our photographer.
All of the very best to you and thanks again, Hannah
---
Wonderful Bouquets
We are writing to express our appreciation for the wonderful bouquets that are presented to the Academy – of which we are Residents – every week. As you are well aware, these bouquets are absolutely beautiful in every sense of the word. You may not be aware of how much we appreciate them, however, and hence this letter. We would like the creator(s) of the bouquets to know that, more than just brightening our day, they excite our admiration for the skill and talen of the person(s) who create these works of art.
Thank you! Residents of the Academy KRH
---
Perfect Wedding Day
We cannot thank you enough for helping to make our wedding day perfect. As you can see from the photos, the flowers were absolutely beautiful and contrasted with the wedding dress, tux, and scenery. The colors were perfect and gave life to the whole them of the wedding party. The bouquets were the perfect size and the ribbons looked beautiful blowing in the wind. Working with you was easy and stress-free.
Sincere thanks, Breeana and Brian
---
Beautiful Table Arrangement
The arch was stunning! And every table arrangement large and small couldn't have been more beautiful! McCall's & my bouquets were perfect and made the perfect heart! Thank you for everything! Jeri and Clarke
I just wanted to write a quick note to let you know how appreciative we are of all your help on our flower order. The arch came out absolutely perfectly. It was just the look and feel I was hoping for, and set the tone for a beautiful ceremony. The bouquets were gorgeous as well. Thank you so much again for al your hard work! We are so grateful!
Best regards, Wendi Temkin
---
Wedding Flowers
I want to let you know how beautiful the flowers looked – on the tables, in the large pots by the fence, and on the cake. Also, the flowers for my hair worked great, and the boutonniere for Malcolm was lovely. Thanks for coordinating with Shamane and also for your artistic abilities both for the wedding day and also for our Friday party.
Best regards, Susan
---
Amazing Wedding Flowers
You are absolutely amazing!! So talented! We can't thank you enough for the most beautiful flowers you put together for Kimberly's wedding. The church looked so gorgeous & Kimberly's bouquet so elegant. It brought such a calming when I first saw her in her dress hold that bouquet. The bridesmaids' bouquets were all so pretty. The boutonnieres for the guys were so classy looking & the two large vases were exquisite! Pew clips were lovely. Our tables at the Red Lion with the flowers & lemons were absolutely awe- inspiring! I can go on & on about what a wonderful job you did for us. You are definitely blessed with some powerful talent. Thank you so much for making Kimberly's special day so complete. Words just can't say wenough, but again, Thank you, Thank you, Thank you! Mrs. Dietz J
---
High Praises for Sturtz & Copeland
If you ever need any references, I will be there for you in a heart beat. The Red Lion also had nothing but high praises about Sturtz and Copeland
---
Beautiful Flowers for Wedding
Thank you so much for the beautiful flowers at our wedding – they were absolutely spectacular and made for a wonderful celebration.
Sincerely, Molly Barnett
---
Lovely Birthday Flowers
Thanks so much for the lovely flowers you arranged for my Mother's birthday celebration. The colors were perfect and she adored the peonies. We loved them! Best regards, Wynn
---
Gorgeous Flower Arrangements Capturing Whimsy and Joy
This is just a note to say "Thank You" for the gorgeous flower arrangements for Krissy's PA Graduation Party. Autumn handled 9 arrangemetns from justa phone call. They were exquisite and added so much to the evening. She took cues from Krissy's love of gerbera daisies and created original, whimsical arrangements that captured the joy of the evening! She has such incredible talent and a gift. Thanks from the botton of my heart for such exquisite work. Sincerly - Linda