Kudos to our Local Growers for their Water Wise Plants
Sunday, April 1, 2018 at 7:07 PM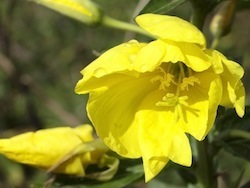 Colorado has a done a remarkable job of educating gardeners on how to conserve water and still have beautiful flower and vegetable gardens. Our growers have listened and done their part by making available a wide variety of native and adapted plants from high altitude dry climates around the world. This year we are again facing the possibility of drought. Gardeners are always talking about the weather. When to plant this year and what to plant depending upon the moisture. Our growers are worried about the weather too and are responding with a wealth of new xeriscape varieties.
Colorado bedding plant growers are the hardest working people around. They take great pride and care in the plants thatthey grow. They employ lots of people, and really make up the fabric of our Colorado community. We take pride in purchasing all of our bedding plants from local growers. You'll never see a semi from California in our parking lot during the spring unloading annuals or perennials. We've used the same growers for years. Welby Gardens, Center Greenhouses, Brown's, Botany Lane, Gulley's, and the Herb Farm are to name a few of our favorites.
Buying locally gives us the opportunity to restock quickly and often. Deliveries are daily and since our growers are close Jason, Patty and Connie can take turns going shopping and hand pick selected annuals and perennials that they know certain customers will love. We can also ask them to grow things specifically for us. Trevor is always bugging them to grow certain tomatoes, and I'm asking them to grow something different like the variety of gentians I saw growing in Swiss greenhouses last year.
The Zauschnerias are my favorite water wise perennials. They come in bright shades of red and orange and bloom
profusely during the hottest summer days. The hummingbirds love them. After blooming I've found that Zauschnerias do best if you mulch them and leave 3 to 4 inches of the stalk standing during the winter. I have a round patch of mounded soil that is surrounded by an asphalt circular driveway. The asphalt around that patch gets so hot in July and August that you'd think any plant would just bake, but the Zauschnerias just continue to bloom happily. The Sempervivum, hen and chicks and the yellow hardy ice plant, Delosperma nubigenum seem happiest in that hot spot too. These are both succulents whose fleshy leaves and stems have adapted to store water. On the back side of that bed there's a Husker Red Penstemon that thrives and drives the hummingbirds crazy and a beautiful yellow Ozark Sundrop, Oenothera Missouriensis. I planted both of those one day after I'd been hiking in Gregory Canyon and walked by several different Oenotheras and Penstemons that were thriving in hot, dry, rocky conditions.
In the spring this same round bed and the asphalt around it stays cool and a little more moist. That's when the bulbs all come up. Tulips, daffodils, crocus, dutch iris and snowdrops bloom beautifully with yellow masses of Aurinia saxatilis, Basket of Gold Alyssum. Basket of Gold is another Proven Winner that is very drought tolerant. I always cut it way back after it blooms to make way for the summer perennials. In the fall I plant pansies over the bulb plants. I'm always surprised at how well they usually do during the winter, and I love the way they bloom at the base of the tulips and daffodils in the spring.
In another hot spot I've been growing Callirhoe involucrata, also known as Winecup or Purple Poppy Mallow. The chalice shaped flowers are 1 1/2 inches across with a white spot at the base of their five maroon petals. This drought tolerant perennial spreads beautifully on three to four foot stems covered with bright green palmate leaves. It will reward you with magenta flowers all summer long while requiring very little water and very little care.
We have a great staff of experienced friendly gardeners who love to help. Hot, dry patches, areas next to concrete walls or sidewalks, poor soil, whatever your problems, they will try to help you solve it. And with the help and knowledge of our professional growers, we should be able to suggest the right water wise plants for all your special needs.