Annuals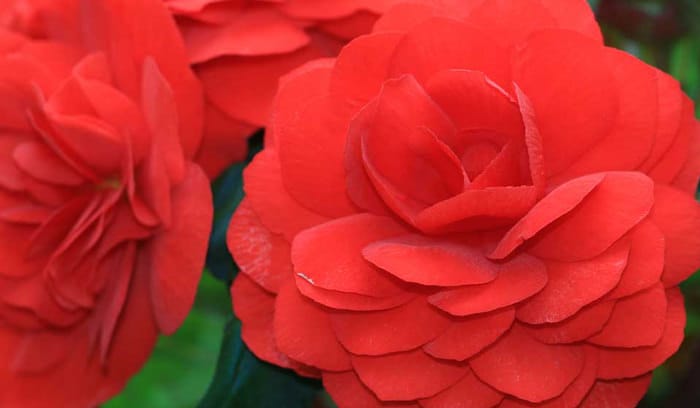 Tuberous Begonias
Begonias are a traditional favorite and available in a wide range of flowering forms. The bloom types also vary from single to double and tiny to large, but all are complimented by attractively lush green foliage. Flowers bloom in shades of red, white, yellow, orange, pink, and salmon.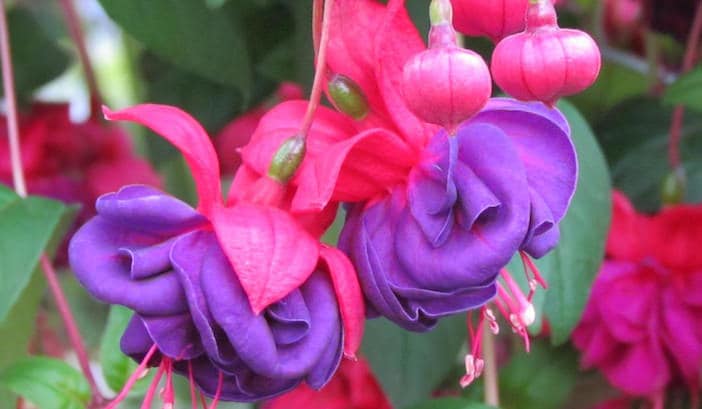 Fuchsia
Fuchsia's dangling blooms are admired and loved by gardeners and hummingbirds. The dangling blooms and buds bring grace, color and a touch of old-fashioned charm to their surroundings. Suited for baskets, beds or containers. Flowers in shades of pink, purple, red, white, orange, and bicolor.
Some of our favorite fuchsia varieties are best suited for hanging baskets because of their trailing habits. Fuchsia 'Marinka" has showy red and pink flowers that tolerate heat. Fuchsia 'Voodoo' is a great bloomer with large double, red and violet flowers and it tolerates the heat too. Fuchsia 'Harry Gray' is a trailer with double white flowers with a soft pink blush. It cascades down two feet and grows two feet wide.
Fuchsia 'Gartenmeister Bonstedt' is an upright variety. It has beautiful orange-red flowers and dark green-purple leaves. It is also heat tolerant. 'Gartenmeister' grows three feet tall and two feet wide. We often use it for height in our shade container gardens.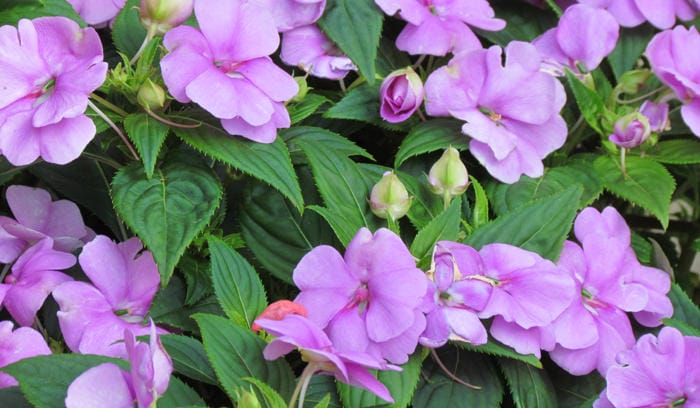 Impatiens
Impatiens are the go to choice for bringing instant color to shady sites. The variety of flower colors range from bright to pastel to striped - and all have lush green foliage. Simply gorgeous planted in a mass grouping offering a full spread of color,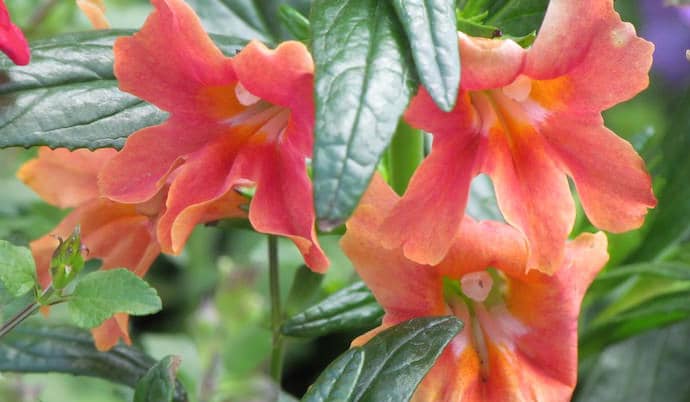 Mimulus
This plant gets its common name, Monkey Flower, from the flower buds resembling the face of a monkey. A fun, colorful addition with flowers from red, pink, orange, yellow, white, and bicolor. The large tubular flowers create great dimension and are a welcome sight to hummingbirds.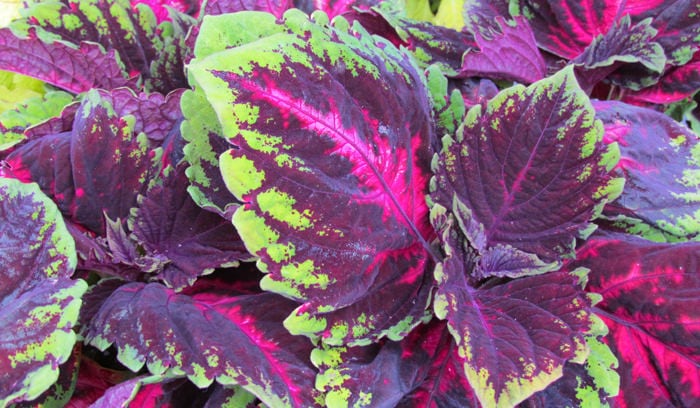 Coleus
A go-to choice for shady foliage plantings, and now many sun-loving varieties are readily available as well. A multitude of striking foliage hues, variegation patterns and designs have lead to the naming of many Coleus varieties. Especially attractive with trailing and narrowly vertical plant companions when added for its height, ranging up to 24 inches.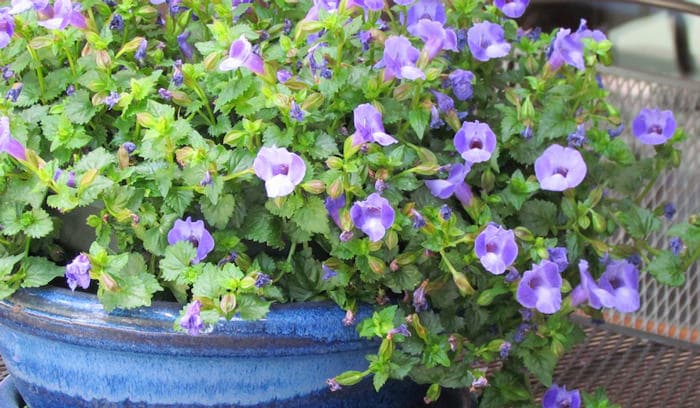 Wishbone/Clown Flower
A flower with an outspoken design lends itself the common name of Clown Flower or Wishbone Flower. Torenia has a lush, loosely open growth habit with single or bicolored velvety blooms, each with a stroke of yellow on its lower lip.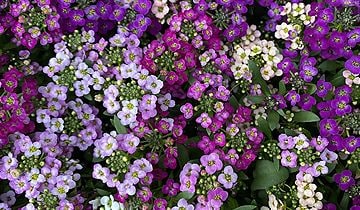 Sweet Alyssum
An old time favorite, sweet alyssum produces a delicate carpet of dainty honey scented flowers in pinks, purples and white. The bees and butterflies love it's sweet nectar.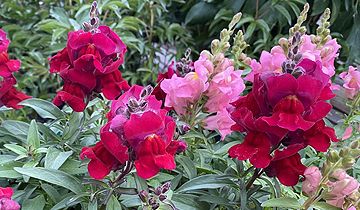 Snapdragon
What a welcome sight after a dreary winter. Snapdragons begin to arrive in March at the same time as our pansies, ranunculus, ornamental kale, dianthus, alyssum, and vinca. They love cool temperatures and bright to partial light making them a favorite for early spring and fall planting.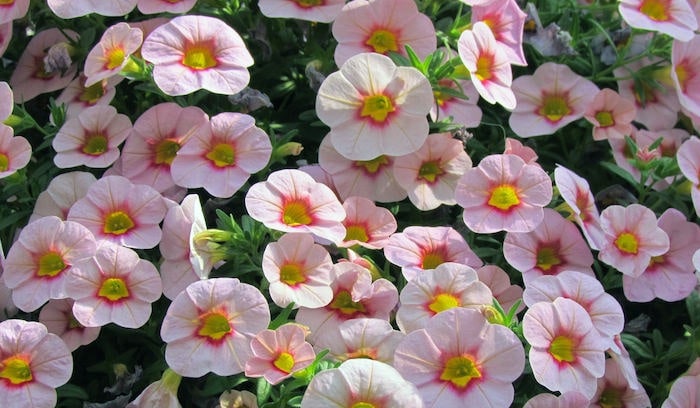 Calibrachoa or Million Belles
This hard-to-pronounce (kal-ih-bruh-KO-uh) cousin of the petunia has quickly become one of the backbones of hanging baskets, French Garden containers, and garden edging. Unlike petunias they bounce back better after a rainstorm, are not nearly as sticky, and do not require deadheading.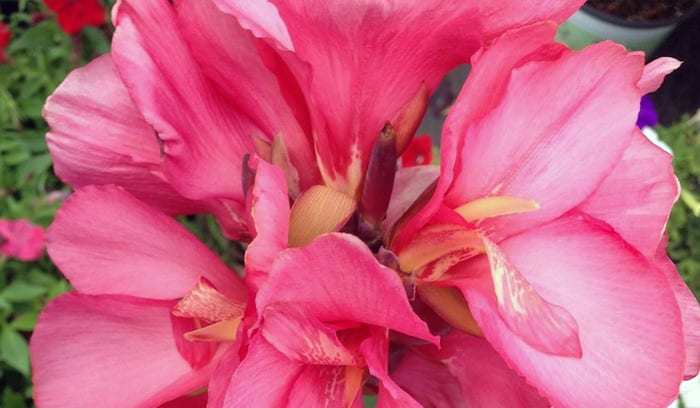 Canna Lily
Looking to make a big splash? Plant a grouping of Canna Lilies for a vibrant tropical look to any garden or landscape! Cannas offer an incredibly striking view when planted in mass in open areas. Great at entrances for a home or subdivision!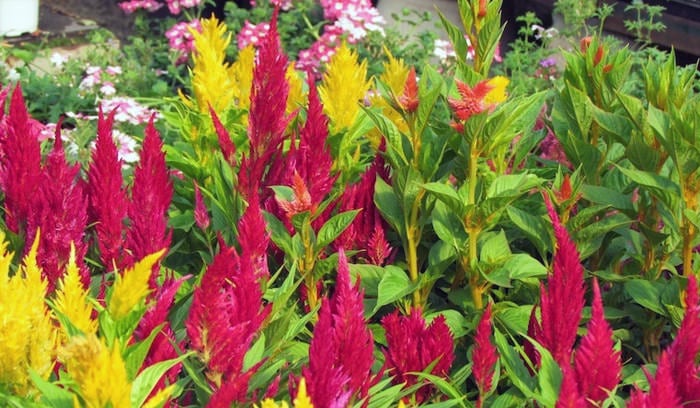 Cockscomb
The sunny annual Celosia tolerates hot, dry conditions well. It is very low maintenance requiring almost no deadheading. About the only thing it doesn't like is being overwatered. Commonly known as woolflower or cockscomb, the blooms are a distinctive flame shape or - you guessed it – a cockscomb with the curly folds similar to the surface of a rooster's comb.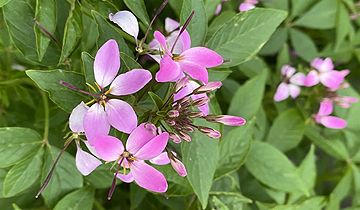 Cleome Spider Flower
Cleome is a great annual for a sunny spot. Also known as Spider Flower, this structural, tall plant has thorns along the length of its stem making it resistant to both rabbits and deer. It tolerates drier soil yet benefits from even moisture while it is blooming. The whimsical shape of the flower makes it a standout in contemporary as well as cottage gardens.
Cosmos
The dry and sunny conditions of Colorado are terrific for cosmos. The airy structure of the plant and flowers lend themselves well to a cottage or wildflower style garden. Butterflies and bees can't resist the simple white, pink, or soft red blossoms. Deer, however, do resist.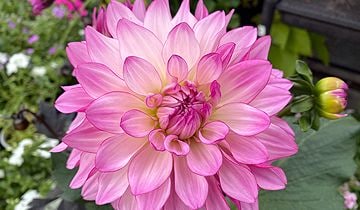 Dahlias
Dahlias come in one of the largest arrays of shapes, colors and sizes of any flower. Their size ranges from giant "dinner plate" to tiny pompon types. Dahlias make a splash as excellent cut flowers. Dahlias are generally treated like annuals in our Boulder climate.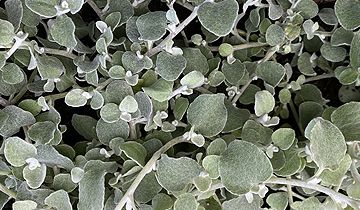 Licorice
A full sun foliage favorite! Licorice has velvety soft silver foliage and a healthy spreading habit, making it ideal for combining with bright flowering annuals. Stunning when planted in large masses to create a soothing and cooling zone in sun saturated locations.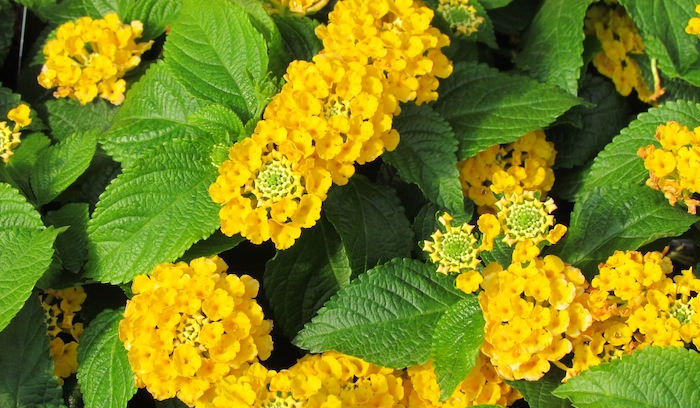 Lantana
A favorite late spring through autumn bloomer! Lantana are native to tropical regions and popular as heat tolerant annuals for xeriscape gardens. Their clusters of tiny blooms come in a good range of colors and are loved by butterflies. Varieties may be upright or trailing, but all have nicely textured foliage.
Mandevilla
Mandevilla's steal the spotlight as a flowering vine ranging 4' - 8' in height with large, trumpet-shaped blooms available in red, pink and white. Incredibly showy and easy to grow creating a splendid centerpiece on a trellis in the garden or in a patio container.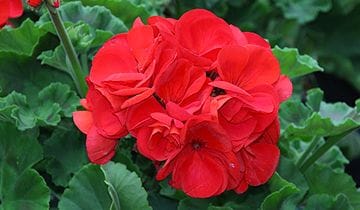 Geranium
Geraniums are some of our favorite summer annuals for planters, pots and hanging baskets. Upright geraniums will give you height in the center of a container garden or mixed pot of annuals. Ivy geraniums are perfect for overflowing in hanging baskets.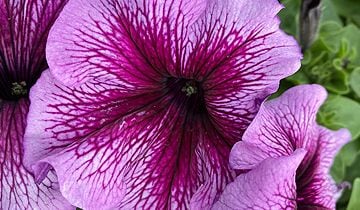 Petunias
Their wide color selection, easy culture, and ability to knit together a garden, hanging basket, window box, or French Garden container have earned petunias their well deserved popularity. They thrive in full sun and evenly moist soil, with regular fertilization.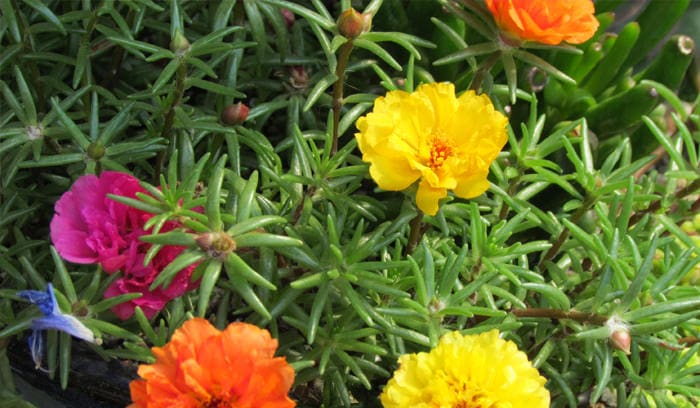 Portulaca
Commonly referred to as Rose Moss, the miniature rose-like blooms open when the sun shines bright! The stems of succulent-like foliage lead to single or double blooms, depending on variety. A carefree option to add splashes of color in shades of red, pink, purple, yellow, orange, and white.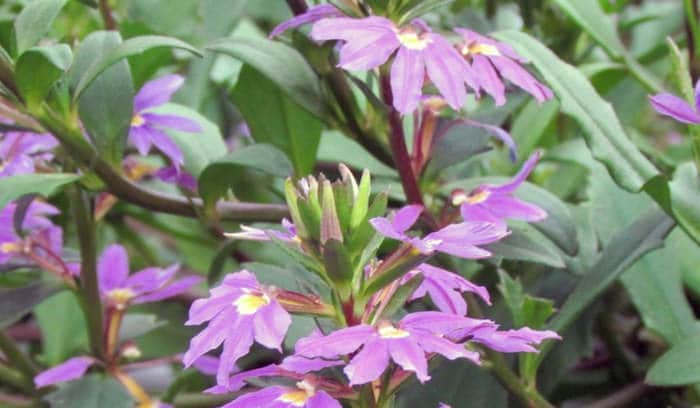 Fan Flower
Like its name, the blooms of this species resemble tiny fans, unfolded against the summer heat. Fan Flower is a favorite for use in annual combinations. Very heat tolerant with blooms in shades of blue and white. Excellent selection for xeriscaping.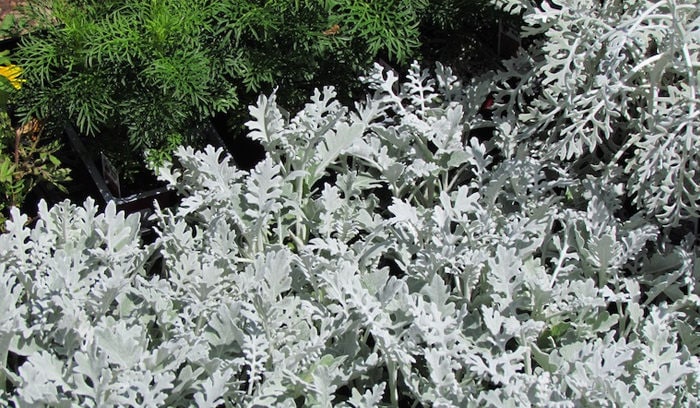 Dusty Miller
Dusty Miller brings a calm, cool contrast to any planting with its downy, silvery foliage. The varieties display their differences in the leaves from notched edges to intricately cut, fern-like foliage. The tiny hairs on the leaves, that give them their softness and color, enable them to be heat tolerant.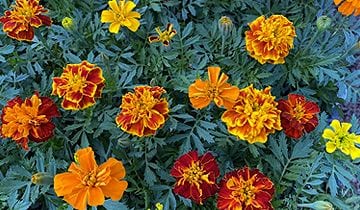 Marigolds
The saturated golds, yellows and rusts of the marigold are a bright addition to French Garden containers, window boxes, and garden borders. Their structure is fairly upright and rigid making them a good compliment to softer profile plants such as nasturtiums, angelonia, ornamental grasses, and bidens.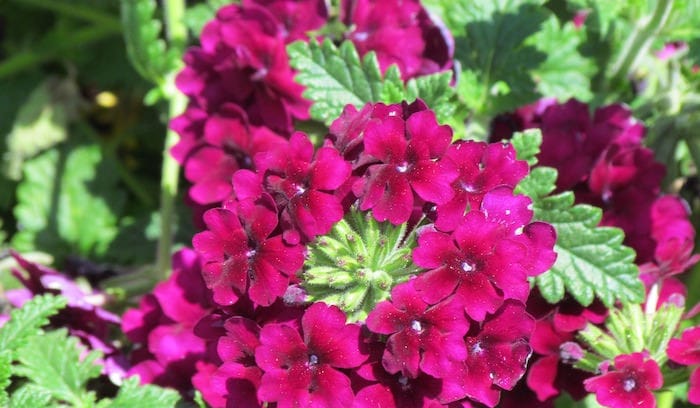 Verbena
For a palette burst of color, add Verbena to any garden or container and enjoy its vigorous, low-maintenance style. Dainty clusters of colorful blooms contrast beautifully with the dark green leaves. Appreciate blooms in shades of blue, purple, pink, red, and white.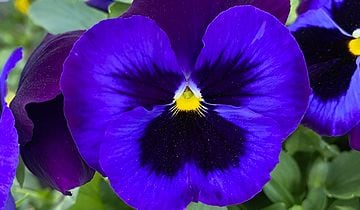 Pansy
Pansies have been a garden favorite since the first varieties were developed from the wild Viola species back in the 1800's in England. The charming flat-faced flowers bloom in array of colors including blue, red, pink, yellow, orange, white, purple, black, and bicolor.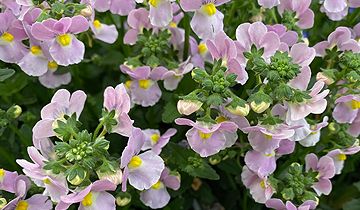 Nemesia
Plant breeders have had so many successful breakthroughs with this old fashioned annual. They have created new varieties that are much more heat tolerant with beautiful bicolor blooms and a pleasant fragrance. They now come in blue, purple, red, orange, white, pink or yellow.  We love to add them as fillers to our container gardens.
Zinnias
A vase of fresh cut Zinnias is the spotlight in any room! Prized for mass plantings in flower beds, borders, containers, and cutting gardens. With their dependability and sensational array of flower color and heights, zinnias easily earn their distinguished reputation.